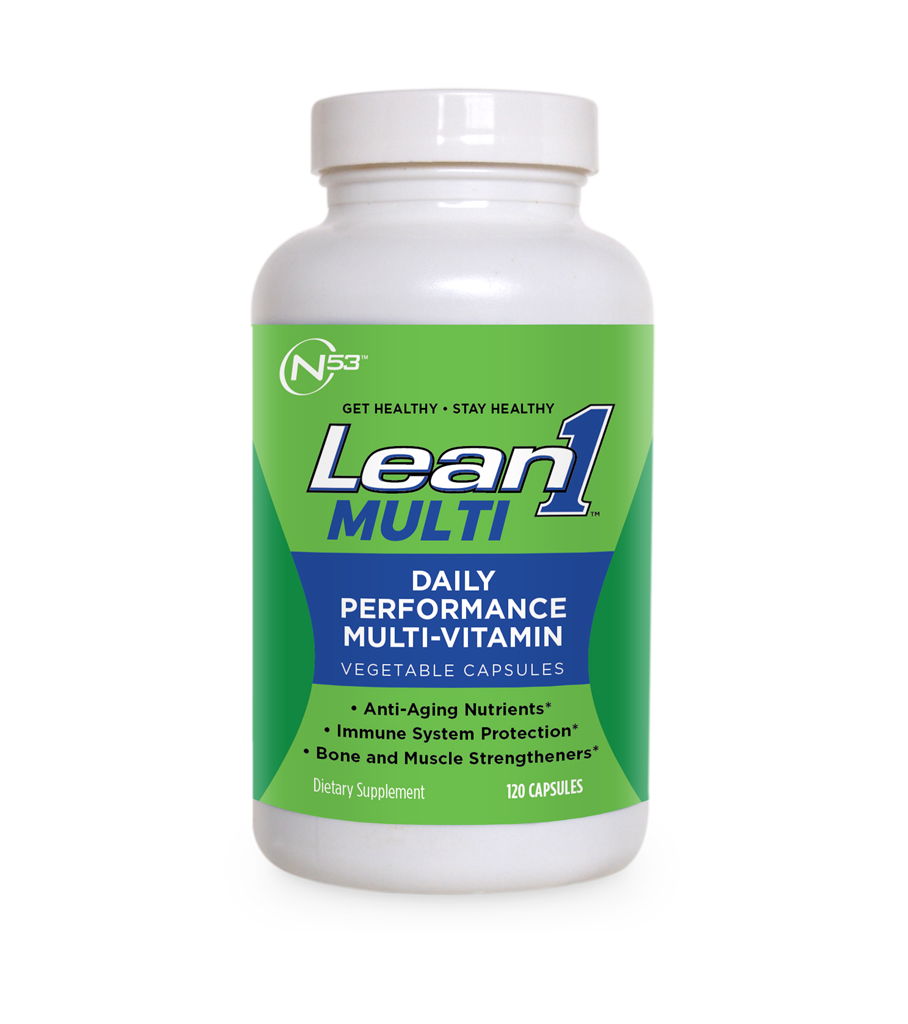 DAILY PERFORMANCE
MULTI-VITAMIN
Our multivitamins and minerals deliver the complete nutritional protection you need, and then some. It's your ticket to a high-energy lifestyle - made simple.
Dietary
Supplements
120
Capsules
Ticket to a High-Energy Lifestyle
Lean1 Multi is a multi-vitamin capsule that includes a complete range of 24 vitamins and minerals, advanced levels of B-vitamins, neuronutrients, anti-aging nutrients, natural mood enhancers, immune system enhancers, and bone and muscle strengtheners. Lean1 Multi delivers a proprietary blend of functional nutrients perfect for enhanced daily nutrients intake to support a healthy active lifestyle.

• Anti-Aging Nutrients • Immune System Protection • Bone and Muscle Strengtheners
BUY NOW
Features and Benefits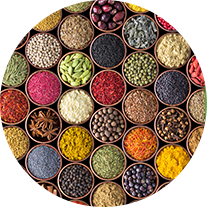 Delivers Essential Vitamins and Minerals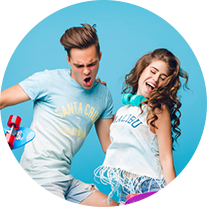 Elevates Mood and Energy Production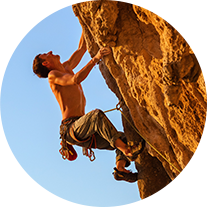 Provides Powerful Brain Boosters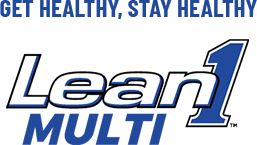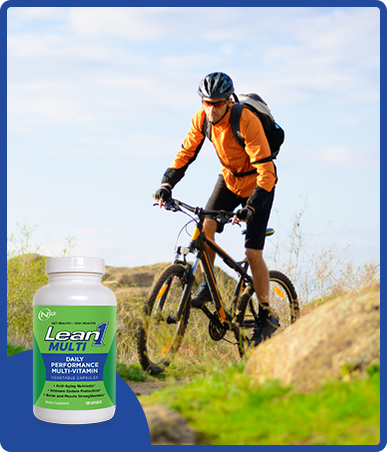 Save and get FREE SHIPPING if you sign up to
the VIP Program!
BECOME A VIP
Supplement Facts

Serving Size: 4 capsules

Amount Per Serving
% Daily Value
Vitamin A (2,000 IU Acetate/2,000 IU Beta Carotene)
4,000IU
80%
Vitamin C (as Calcium Ascorbate)
250mg
417%
Vitamin D (from Cholecalciferol)
200 IU
50%
Vitamin E (from 90% d-Alpha Tocopheryl Succinate/ 10% Mixed Tocopherols)
100IU
333%
Vitamin K (as phylloquinone)
100mcg
125%
Thiamin (Vitamin B1; as Thiamin HCI)
50mg
3,333%
Riboflavin (Vitamin B2)
10mg
588%
Niacin (as Niacinamide)
25mg
125%
Vitamin B6 (from 80% Pyridoxine HCl/20% Pyridoxa15'-Phosphate)
50mg
2,500%
Folic Acid Vitamin B12 (as Methylcobalamin)
800mcg
200%
Vitamin B12
100mcg
1867%
Biotin
300mcg
100%
Pantothenic Acid (from Calcium Pantothenate)
50mg
500%
Calcium (from Calcium Citrate)
150mg
15%
Iron (from Iron Citrate)
2mg
11%
Iodine (from Potassium Iodide)
150mcg
100%
Magnesium (from Magnesium Citrate)
100mg
25%
Zinc (from Zinc Picolinate)
15mg
100%
Selenium (from Selenomethionine)
30mcg
43%
Copper (from Copper Amino Acid Chelate 14%)
50mcg
2%
Manganese (from Manganese Amino Acid Chelate)
2mg
100%
Chromium (from Picolinate)
200mcg
167%
Molybdenum (from Molybdenum Amino Acid Chelate)
50mcg
67%
Potassium (as Potassium Citrate)
90mg
3%
Proprietary Nutrient Blend
Choline Bitartrate, Citrus Bioflavonoids, Eleutherococcus senticosus Root Exract, Inositol
Mixed Tocopherols, Rutin, CoEnzyme Q10, Alpha Lipoic Acid, Boron Citrate/Aspartate
---
Other ingredients: Gelatin Capsule (Gelatin, Glycerin, Water) Magnesium Stearate, Silica, Rice Powder.
FREQUENTLY ASKED QUESTIONS
What is the difference between Lean1 Multi and some other multi-vitamins like One-a-Day?

Nutrition53's Lean1 Multi are gelatin capsules unlike most of the traditional pressed tablets. The benefit of having a capsule formula is that your body is able to breakdown and dissolves a larger percentage of the ingredients where as the pressed tablets might not absorb 100% in the digestive system. Also, Lean1 Multi contains additional immune boosters and brain anti-aging vitamins that most of the competitors do not incorporate in their products.

Do I need to take the recommended quantity of 4 per day? That seems like a lot.

It depends on what you eat. Lean1 Multi ensures your body gets all the nutrients that it requires. Listen to your body and take 2-4 capsules a day to complement your intake of food.

Is it too much to take Lean1 Multi if I am already taking Lean1 or Neuro1?

Nutrition53's product line has been specially formulated to work together. There is no excess and harmful overload to the body. Do not exceed the recommended daily usage.
Need a hand with this? Chat to one of our experts
925-900-3557